Do you ever shop at
Anthropologie
? I know so many people who are addicted to that place, and truly live for their sales. I go back and forth - I think a lot of their stuff is way overpriced (at least for my budget) for what it is, and I also think a lot of their stuff is just too much. Too cool, too perfect - you know what I mean. But I also like a lot of the things they sell. I don't go in to the store all that often, so I can't really claim to be an expert.
For reasons that I can't explain, I got a coupon in the mail at the end of February, giving me 15% off on any purchase during the month of March, for my birthday. As I said, I have no idea why I got it, but I figured it was worth going in to look around and see if I wanted to treat myself to anything. I saw a few things I really liked, but decided were either too young for me, or just more than I would be willing to spend, for what they were. I was walking out, and I saw a t-shirt that really struck me. I took a closer look, and decided that if the price was in any way reasonable, I was going to use my coupon and buy it. So I did, and here is what it looks like: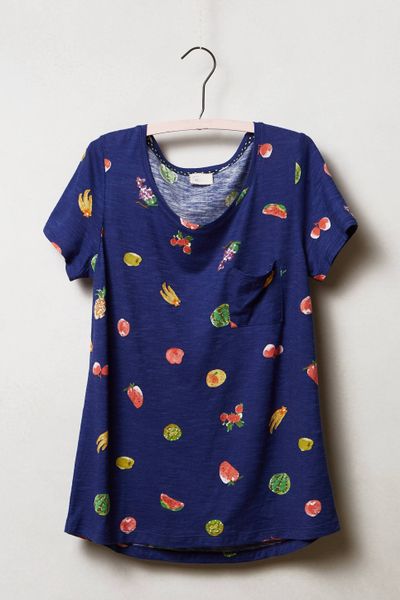 Pretty, right? I love the shade of blue, and the fruit print is fresh, but not too sweet or hipster-y. With my coupon, it was a price that I was willing to pay. I like the way it looks on me, and am looking forward to wearing it. (So of course now we are having a cold spell again!) When I was checking out, the clerk said, "This is the kind of shirt I can see myself wearing while drinking a margarita." At which point I really wanted a margarita. (It was 11:00 a.m.)
So I am very happy with my Anthropologie purchase. It's nicely made, and even fairly practical, and will be a versatile addition to my wardrobe. It also made it possible for me to get rid of another shirt from my existing wardrobe that I finally admitted to myself that I would never wear again. Hopefully someone will want to give it a good home, and think it's beautiful.
I'm not sure when I'll visit Anthropologie again, but I'm happy that I had the coupon to give me a push this time.