It's a happy day when two of the things you love are somehow combined. Long before I started this blog, I started a knitting/reading/whatever blog, which you can see
here
.
Then, last Christmas, I became aware of a single product that combined two of my very favorite things: knitting and beauty. They are called
Soakboxes
, and they combine a skein of yarn and pattern for a pair of fingerless mitts; a small bottle of Soak, which is made to clean your knitting projects when they are finished, or need a wash, a bottle of hand cream, and a bottle of custom-dyed Essie nail polish. The have great names, such as Elvis Paisley and Grape Gatsby.
I'd only ever seen them online, until I visited one of the local yarn stores,
Hidden River Yarns
, owned by a friend of mine. At the time, I'd been really in love with one of them, but couldn't afford it, even though they were marked 20% off. But she was kind enough to put one aside for me, and last week I finally got to pick it up. Ladies and gentlemen, I give you
Lace Kelly
: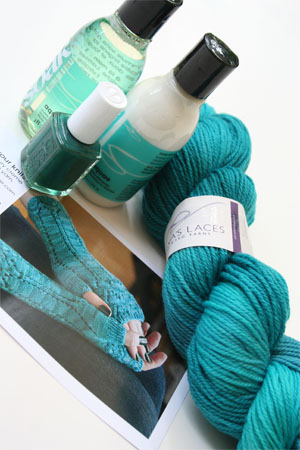 And here is a photo (from the Internet, I'm not there yet) of what the finished knitting project looks like, while wearing the nail polish (which is a shade called Incognito):
I just think this is so cool! There are colors enough for everyone, and I think it would be a lovely gift if you know someone who loves to knit, and is also likely to (or does already) paint their nails.
Fun, right? And proof for those still following outdated stereotypes, that knitters are not just little old ladies knitting baby booties. (Though I admit to both being old and having knit baby booties for a friend's baby.)
These can be found both online and in yarn stores, as well as through
Amazon
. So you really have no excuse if you want to buy one for yourself or someone else. :-)