Hello all - Happy First Day of Fall! Hooray for leaves turning, cozy clothes, and all the good stuff fall brings. (Or will someday - it's still 85 degrees and humid here.)
Moving on, I have to tell you about a nail polish color that I found and have fallen in love with - Essie Demure Vixen.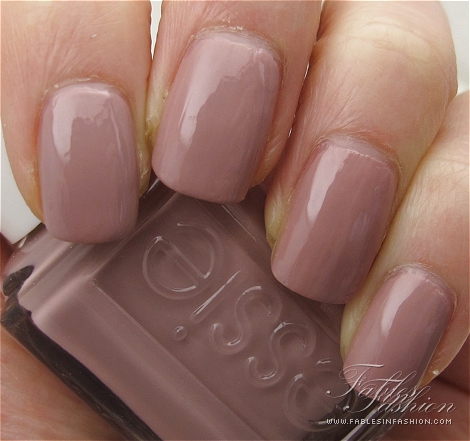 (Not my hands, trust me!)
I do like nail polish, but frankly when I give myself a manicure, the results are usually not that great. Well, or at least not reliably great. Sometimes, the planets are aligned, and my nails are painted and that's it. Most of the time, my nails, knuckles, and other parts of my hands are painted ... but I digress.
Before we left on vacation, I used a gift certificate I'd gotten from a friend for taking care of her dog to get a gel manicure. A few years back I got one, with disastrous results when the polish was taken off; but said friend (who gets manicures regularly) said that they were much better now, and the place where I had the gift certificate did not use toxic materials. I figured what the heck, it would be nice to have a nice-looking manicure and not worry about chipping while on vacation.
She was correct - none of it was as I had remembered, and though I was happy with how it looked, etc., I do wish I'd chosen another color. (I really got sick of it by Day 3.) So last Sunday, I decided to get rid of the gel nails and since I would have to pay for that anyway, just get a regular manicure.
And that, my friends, is when I met Essie Demure Vixen. I wanted some color, but nothing dramatic. This ended up fitting the bill EXACTLY. It is one of those shades where your nails look nice and clean and fresh, but you can't necessarily tell if a) the person is actually wearing nail polish, and b) if it has chipped, unless you are up close.
I liked it so much, that I poked around online to see where I might be able to buy a bottle for myself. Apparently, it is from a few "seasons" ago, and the only place around here that had it was
Ulta
. So yesterday, after work I stopped and bought myself a bottle of my very own. :-)
My Sunday manicure was mostly chipped off, so last night I removed all of the polish. But I got a pretty good run out of it, given the amount of stuff I had waiting for me at work that would have messed up my hands and nails regardless.
I shall give myself a manicure with this shade again soon, and can see it becoming my "go to" shade. Now that I have also figured out a way to give myself a manicure that will generally last at least 4 days before chipping, it will be worth the amount spent on the bottle of polish.
So - if you like to polish your nails, but don't want a lot of color, etc., look for this and give it a try. I think you'll be happy you did.
I just hope you can find the color if you are looking ... sigh. Why do they get rid of some colors and others that are just butt ugly stay around forever??? (rhetorical question)
OK, that's it for now. Have a happy upcoming weekend, and let me know if you find/try this shade.