Hello and Happy New Year! I hope everyone had a good holiday season. Ours was quiet, but very nice, and we also finally got some winter weather this week, so I'm happy.
Did you get any glamorous Christmas gifts? I actually got a few.
This is actually one I bought a month or so ago, for myself, and then gave to The Tim to give to me. Of course, I completely forgot that I bought it, so I was pleasantly surprised!
I bought this after I was talking with a woman at Nordstrom's one day about the lovely lipstick she was wearing. She said it was this, and shortly after I saw this holiday sample set at Sephora on sale. So far I have only tried one of the colors, but it is lovely, soft on the lips, and lasts a decent while (at least on me, who is always drinking something ...)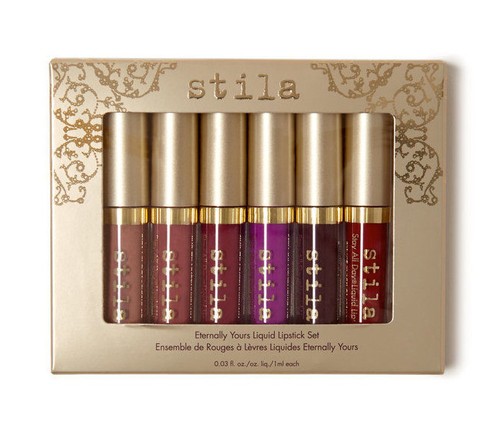 I was trying to find a link if you were interested, but it seems to be sold out online, unless you want to buy it for lots of $$ on Ebay. Sorry about that!
This set was a gift from my sister Nancy. These are shots of the outside case and the inside. To give you an idea of how lame I can be, I spent a ridiculous amount of time trying open this case on Christmas morning, to see what was inside. I was ready to give up when The Tim said, "Doesn't that little black elastic band on the top move so you can open it?"
Yes. Yes it does.
Eejit.
Anyway, I have not tried any of these yet, but they sure are pretty, right? I hope I like them better than the lip glosses I tried a few years ago that were way too sticky for me to be able to stand wearing them.
This one is perhaps one of my most glamorous gifts ever. The Tim bought this for me, because he "has heard of Chanel, and thought it might be nice. Plus, the perfume was the best price, so I just got that." !!!! Nice, huh? He said it seemed like it might be a "nice treat." Oh yes, it is! This is a scent I like, but would never splurge to buy for myself. Yay TheTim!
This one is available pretty widely at almost any department store, but also at Sephora and the like.
I guess it was a kissy and fragrant holiday for me! :-)